Instruments for the Analysis of Food and Feed
Instruments for the Analysis of Food and Feed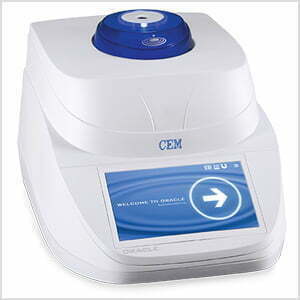 CEM Oracle: Fat Analyzer
CEM ORACLE: Absolutely NO method development. Just push the run arrow and your analysis starts.
ORACLE is the first ever rapid fat analyzer that requires absolutely no method development. ORACLE can analyze fat in any food sample with reference chemistry accuracy, without any prior knowledge of the sample matrix and composition.
Simply press the run button and in 30 seconds the ORACLE delivers an exceptionally accurate and precise fat result. It's really that simple.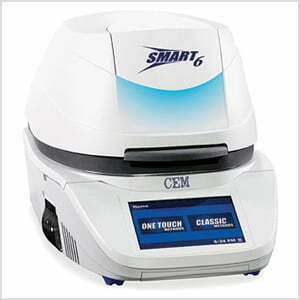 CEM Smart 6: Moisture / Solid Analyzer
The SMART 6™ is the most technologically advanced microwave moisture analyzer in the world for rapid moisture / solids analysis. The system utilizes a combination of microwave and infrared to rapidly analyze moisture and solids in any product. This patented dual-frequency drying energy source provides the most rapid and complete drying available, for the widest range of sample types.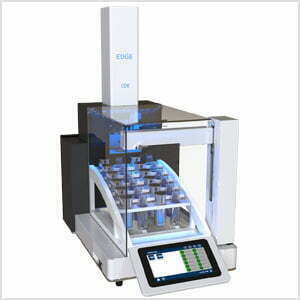 CEM Edge: automated extraction
The EDGE® is an automated extraction system that's faster than Soxhlet, more automated than QuEChERS, and simpler than other solvent extraction systems. Extract a wide range of samples and sizes at least 3 times faster than other pressurized fluid extractors. This includes filtering, cooling, and washing. The EDGE has revolutionized the extraction process for sample preparation.
For example: Fat, Pesticides, Dioxins, PAH, PFAS, etc.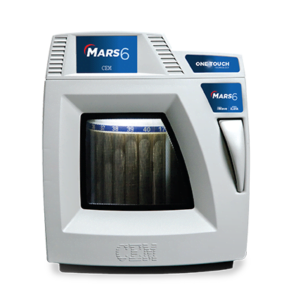 CEM Mars 6: microwave digestion for heavy metal analysis   
For over 30 years chemists have trusted CEM to provide the highest quality microwave digestion systems for their laboratories. The MARS is simply the easiest to use, safest and most intelligent system on the market. It is the only system that uses integrated sensor technology to recognize the vessel type as well as the sample number then apply the appropriate amount of power to ensure the highest quality digest. With options for remote system control and contactless all vessel temperature control, the MARS is ready to handle your most difficult samples.
CEM Phoenix Black: Rapid and simple Ash analysis
For raw / frozen meat but also for canned meat and finished products.
Ash samples with unmatched speed and safety with the Phoenix BLACK™. With an onboard touchscreen interface, you'll save time and simplify your workflow. Two powerful magnetrons heat the cavity, which allows for exceptional temperature control and lightning fast ramp times. Make rapid adjustments to reduce out-of-specification products and improve your process control.
The new Phoenix Black can be paired with a balance and a printer for automatic results.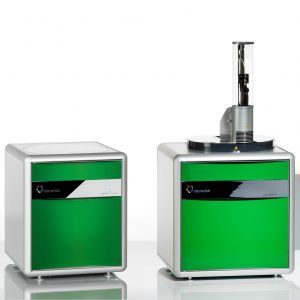 Protein analysis is an essential tool for quality control in food and animal feed industry. Elementar is the pioneer of the Dumas combustion analysis for the determination of N/Protein from macro samples into the gram range, which currently replaces more and more the wet-chemical Kjeldahl method.
Our dedicated nitrogen and protein analyzers use the high-temperature combustion method according to Dumas, ensuring a cost-effective and eco-friendly nitrogen and protein determination in your solid or liquid sample. In combination with our innovative EAS REGAINER® Technology incorporated into our nitrogen and protein analyzers, protein analysis becomes even more cost-effective compared to conventional Dumas combustion analyzers. A major expense of traditional Dumas combustion is the reduction metals needed to bind excess oxygen and convert nitrogen oxides to molecular nitrogen. With our patent-pending EAS REGAINER® Technology, this cost has been greatly reduced, further driving the advantage of these Dumas analyzers over comparable systems. Combined with their reliable and robust design, our analyzers offer unsurpassed high laboratory efficiency in nitrogen and protein analysis.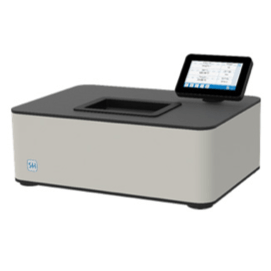 Schmidt & Haensch VariPol
The VariPol takes the proven SuH technology to a new level combining it with new innovations and all advantages of the VariFamily.
The VariPol makes polarimetry faster than ever. The new integrated peltier system can change 10°C in 30 seconds to highest precision. After stabilisation of the temperature the measurement itself takes only 6 seconds. The 100mm sample room is optimal for the needs of pharmaceutical and chemical laboratories.
Schmidt & Haensch VariRef Refractometer
An important area of application is the food-analysis. For example the investigation of oils or fat, sugar and sugar containing substances. Also beer and spirituous beverages belong to the material class, which are investigated by refractometry. Furthermore, refractometers are used as universal detectors in the investigation of liquids.
Inline Process Refractometers measure the refractive index continuously and in real time, thus determining the concentration of liquids or the mixing ratios of binary or quasi-binary mass ratios.
The measurement is independent of turbidity, color, absorption and viscosity, which ensures maximum precision and better process control.
Process refractometers can be installed in pipelines, mixing tanks, reaction boilers, storage vessels, cooking appliances or evaporators using various flange connections.