New webinar in april:
Alternatives of batch experiments – Advantages of using the Phoenix H-Genie reactor system for continuous flow hydrogenations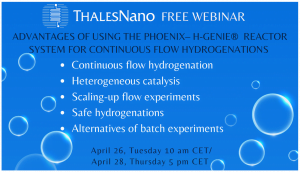 Join us and ThalesNano for this informative webinar. There are two possible moments:
26/04/2022 at 10.00 a.m
28/04/2022 at 17.00
During this webinar, we will explore the advantages of using the Phoenix Flow Reactor™ and the H-Genie® system combination. Don't forget to register here!
Continuous flow hydrogenation
Heterogeneous catalysis
Scaling-up flow experiments
Safe hydrogenations
Alternatives of batch experiments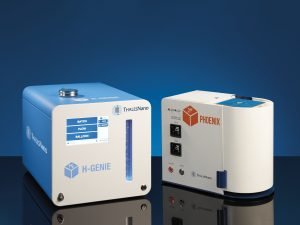 The H-Genie® smart hydrogen generator combined with the Phoenix Flow Reactor™ from ThalesNano is an all-in-one flow chemistry setup for catalyst testing, synthesis, optimization, and scale-up that is useable in any fume hood in any lab. This combination offers you a wide temperature and pressure range in addition to high pressure hydrogen generated safely without cylinders for your reactions, granting you the capability of synthesizing from milligrams to kilograms of product on the same system without the need to spend on expensive infrastructure or equipment.